Archive for December, 2013
I never seem to have any time at the end of the year for all the reflective stuff that other people manage, so that sort of thing will have to wait until next week. But the final thing I really wanted to get done today was to post our final family pictures from this year.
Me and Mine has been running for a whole year now. I joined in on the spur of the moment in January, but sadly haven't managed to keep up every month. I still love looking back at all the family pictures we do have – several of which would most definitely not be in existence if it weren't for this project. I definitely think more about getting all three of us in front of the camera during days out and special occasions, which has to be a good thing. I'm actually sharing three pictures today – because I couldn't choose between them – and each was taken because I thought "This is a good opportunity for a group shot". If I'd been planning more, I might have aimed to capture us over Christmas itself – eating, drinking, in front of the tree. But Christmas didn't quite pan out as expected and I'm very happy with the pictures we captured during the month before.
On the Santa Special steam train. Despite his expression, Thomas loved riding on a "Steeeeeeeeam twain".
Meeting Father Christmas himself. Thomas sat very happily on his knee chatting about the "big present" he wanted (nothing specific, just big!). He looked a bit happier in the individual shots and was only looking a bit glum because we were witholding his present from him!
Thomas's first bowling experience, which he absolutely loved! Probably my favourite of the three pictures if I'm pushed!
Having said I have little time for reflection, some is always inevitable on New Year's Eve. 2014 is a year which will, one way or another, bring big changes to our family. Today marks the official beginning of our very first cycle of IVF treatment. By this time next year we will – hope against hope – have another child, or at least be heavily pregnant. But since we don't plan to tear ourselves apart over this, we may equally have come to the conclusion that our family is meant to be a family of three.
It will be a year that, either way, I want to record and with that in mind, I'm committing to trying to complete all twelve months of Me and Mine next year.
Happy New Year!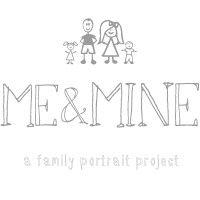 One of the things I had intended to do on Christmas Eve, had we not been watching flood water rise, was a big catch-up blog post. December sort of ran away with me, between working hard, attending Christmas activities and get-togethers, shopping, writing cards and wrapping gifts, there was little time for blogging. I suppose you could say I was busy living life but not recording it. Whilst I know that is what is really important, I also really wanted to record some of the festive highlights of the season, as much for myself and Thomas to look back on in years to come as anything else. This post is very photo heavy, with some of the pictures are not of great quality, and it's been written as a bit of a stream of consciousness, as my primary aim is to get these memories down for us!
Our festivities started at the end of November with the local Christmas lights switch on. Thomas became ridiculously excited throughout the day after being told we would be seeing fireworks. This is despite the fact that, to our knowledge, he has never seen fireworks before. We opted not to take him to any local displays around November 5th as they all seemed very late and very expensive, especially given the high likelihood of a freak out. The Christmas Lights Switch on by contrast was early, local and free. He asked all day when it would time for the fireworks. He also enjoyed the music on the stage set up in the high street, dancing along to everyone in the vicinity's amusement! When the fireworks finally started he could hardly contain himself, and couldn't have been further from freaking out!
The next big Christmas activity was the Santa Special on a local heritage railway. For a train obsessed toddler, a ride on a rap steam train is heaven, and we figured he would have a great time even if there was a meltdown when it came to meeting the man in red. Thomas surprised again, however, by not only sitting happily on Father Christmas's knee, but chatting about how he wanted a "big present" and posing for photos too! The gift we got from this experience was good quality (not plastic tat) and the mulled cider and mince pies were much appreciated by us too!
C;utching his beloved wooden Thomas train, of course!
Pointing because a helpful elf is waving his present to get him to look at the camera!
This also coincided with the first day of advent, which meant introducing Thomas to our wooden advent calendar. Ian and I got this one the year we got married, after looking for a similar one for a few years. Most of the wooden advent calendars I found contained empty boxes to be filled yourself. We didn't fancy filling our own calendar for ourselves, so we wanted one with wooden trinkets inside to be hung up. This one depicts a front room scene and each box contains little wooden shape to hang on the scene. Now that we have Thomas, I'm especially grateful for this calendar, as there is no way I wanted to start a precedent of chocolate every day during advent! He loves the calendar, and asks to play with it everyday. He's enjoyed spotting the numbers and opening the door to see what is inside, He can even hang the shapes up by himself!
The following weekend was Christmas Tree time. We always have a real tree. Partly because that is always what I have done. I love the shape and the look of a real tree, not to mention the smell. I think I'd get bored of the same artificial tree year after year, not to mention having to find space in the loft to store it. We went on a family expedition to pick the perfect tree (for which read we took it in turns to chase Thomas around in between the trees whilst also trying to choose one!). Ian and I got it in to the stand and the lights on it whilst Thomas had a rare nap. Once he was awake we all "derrickated" it together. Another tradition that Ian and I have is to watch Home Alone whilst decorating the tree, and surprisingly Thomas loved this too!
Later on that weekend, Thomas had his very first experience of bowling at a family-friendly work party. He had an absolute blast. he wanted to pick all the balls up himself, and did escape to start running down the lane once, but once we got the hang of setting up the ramp he was brilliant at pushing the ball down and even scored a strike! Definitely an activity we will be repeating some time soon.
The next week saw his Christmas sing along at nursery, and I was absolutely riddled with guilt that I couldn't make it. It didn't help that I'd found him in tears at nursery pick up the previous day for the first time EVER because the mummy of the other Thomas in his room has arrived for pick up before me. When they had said "Thomas's mummy is here" he thought they meant me, and was very upset that I wasn't there. I had a particularly rubbish day at work too, and would much rather have been singing "Father Christmas, Father Christmas. He got stuck. He got stuck." But apparently Thomas had a great day, sang at the top of his voice (which I can believe as we heard him "practicing" at home") and chatted happily to other parents, even monopolising another child's dad to draw trains for him!!
We made up for missing the sing along with a full family day out to London the following day, and Thomas's first ever theatre trip. This really deserves a post of its own, but we went to the production of "Twas The Night Before Christmas" at the Unicorn Theatre (the dedicated children's theatre) in London. It was aimed at children aged 2-5 and was perfect for Thomas who sat completely engaged throughout the 60 minute one man show. We also enjoyed lunch at Pizza Express, who now thoughtfully give children stickers with their menus, and a walk along the river. Thomas was so excited at the number of double decker buses that he got to see as we walked along Tooley Street that he was literally jumping for joy every time one passed. It made my heart ache just a little bit.
The telephone boxes in Hay's Galleria were a huge hit!
"I want to go in Daddy!"
That weekend also saw Thomas's music class Christmas party, which gave him another opportunity for plenty of singing and shaking his bells, and eased my conscience a bit more about missing the nursery party. On the Sunday we took a trip to local National Trust venue – Igtham Mote – which had been dressed for Christmas. Thomas adores Christmas Trees, pointing them out wherever we go, so to see so many in one house was a big treat. Unsurprisingly he homed in pretty quickly on the model train beneath one of them!
This very 1970s Christmas tree made me feel nostalgic for the Christmas trees of my family during my childhood!
Some guys were playing Billiards in the Billiard room and very kindly let Thomas "help" as he was very insistent that he wanted to play!
My parents have many photos of me playing in this same dog kennel as a child.
The ice house was very fascinating.
The final weekend before Christmas was taken up with visiting family and it was unfortunately at this point that illness, teething and not sleeping hit. But I think we made December pretty special for our two year old and I'm glad, even if the only way he will remember it is through these photos!
Last Monday night, as we slept soundly in our beds, a storm raged outside. Trees toppled in the wind and our corner of the country was lashed by torrential rain. Sometime during the night, the river which meanders along between our road and the large open park and sports ground opposite opposite burst its banks. We awoke on Christmas Eve to scenes which, whilst not totally unprecedented or unexpected given that the park serves as a flood plain, were somewhat surprising. Water, water, everywhere, as far as the eye could see.
I thought that was the extent of it. The flood plain had done its job and flooded nicely, sparing our house, our street and the rest of the town from a certain deluge. But a short walk in to town later that morning revealed several flooded side streets and town centre car parks under feet of water. Our local Sainsburys was deserted – on the day before Christmas!
But it wasn't until the evening that events took a more worrying turn. Water begun to creep steadily up our road, sweeping without invitation in to houses and cars, cutting us off from the rest of the town and washing away any hopes of a peaceful Christmas. Far from spending the evening filling Thomas's stocking, setting out Christmas presents and enjoying a Christmas film, we were busy moving the car to higher ground behind the house, hastily preparing for potential evacuation and ensuring important items, particularly those of sentimental value, were out of harms way. We were glued to the news and social media updates, where rumours of failing flood barriers did nothing to calm the panic that seemed to be spreading as surely as the water throughout our town. As we went to bed, images of sugar plums couldn't have been further from my head.
Christmas morning dawned bright and clear, the worst of the weather well and truly past. We were fortunate to be spared flooding, but neighbours just a short distance away were not so lucky.
We remained trapped, our road impassable. Gone were the plans for Christmas lunch with family and we embarked upon a Christmas at home with just the three of us. Not what we expected at all. It felt, and still does, selfish and indulgent to bemoan the fact that there would be no turkey dinner or usual Christmas trimmings when so many local families had lost so much and were spending their Christmas morning in temporary accommodation. But I must admit it was somewhat difficult to feel very festive in the circumstances.
Luckily for us, the water subsided reasonably rapidly and by Boxing Day, our road was passable by car and we were able to get out to enjoy a postponed family Christmas lunch at my parents' house. Sadly for us the unexpected didn't end there, as both Ian and I came down with the stomach bug that Thomas had last week. And to add a final insult, Thomas's sleep has hit a real low patch in the last week. We've endured hours of hysterical screaming that nothing other than YouTube videos of trains will soothe. There really is nothing quite like watching trains coming and going from London Bridge on your iPad at 1am! It's taking hours to get him to settle at night and he's back to waking three, four or five times throughout the night after that. He does have two new teeth to show for all the wailing, so perhaps that's the reason. But overall, perhaps you can forgive me for feeling that Christmas fell a little flat this year.
Back at home, we went for a walk this afternoon. As the pictures show, the floods are receding. So here is hoping for a brighter start to 2014!
Linking up, for the first time, with the lovely What's the Story Linky over at PODCast
This year will be Thomas's third Christmas, but the first where he will have any clue about what is really going on. He was just six weeks old for his first Christmas, and too little to even notice, never mind care, that we dressed him up as an adorable elf and tried him for size in the roasting tin! Last year he took notice of the tree but was freaked out by Father Christmas and had no real understanding of what was happening. It took him well over two weeks to actually unwrap all of his gifts!
But we've always known that this year, at just over two, it would all be different. He's old enough, and smart enough, to have some sort of understanding of the whole concept of Christmas and even to begin to be able to anticipate things that are going to happen in the future. And it's this sense of anticipation that we've really wanted to help him with.
Ordinarily, I'm not one for starting Christmas early. I think dragging out too long dilutes the magic and makes it actually seem less special. As children, our Mum's birthday in early December marked the absolute earliest we could begin Christmas preparations and excitement and the tree did not arrive until at least the second week of the month. In general this is the pattern that I want our Christmas season as a family to continue to follow. But this year, as I filled up the December calendar with Christmassy events – a trip on the Santa special, Thomas's first visit to the theatre to see an age-appropriate production of The Night Before Christmas, Christmas markets and Christmas parties – I began to wonder if this would all be a bit overwhelming to our toddler. I wanted him to be able to understand what these events were in aid of, who Father Christmas is and most of all to see it all as a build up to Christmas Day – the build up that I remember so fondly from my own childhood.
So this year, for one year only, we started to introduce Christmas a little earlier. About a week after Thomas's birthday we brought out the books containing Christmas stories – particular favourites have included the Mr Men Christmas stories and Rod Campbell's Dear Santa (although I have to admit to changing the words to Dear Father Christmas when reading aloud – I'm a bit of a traditionalist like that!) We also brought out Christmas themed Sticker books, which have been a massive hit, and as a direct result of these Thomas quickly understood who Father Christmas is and the multitude of different forms he takes in printed media. He also became an expert at spotting Christmas trees and naming the various decorations he could see on them. The final part of our pre-Christmas prep was the classic DVDs of Father Christmas and The Snowman. These have been surprisingly big hits and although I've always loved The Snowman score, after listing to it about three times a day every day for the last couple of weeks, I'm officially sick of it!
I also introduced a bit of Christmas craft. Thomas is obsessed with "sticking" at the moment, so we constructed our very own Father Christmas from a kitchen roll tube, red and black paper, cotton wool some googly eyes and a pipe cleaner. I felt very Blue Peter and Thomas adored all the glue he got to apply to the paper and sticking the cotton wool in to place!
All the prep seems to have paid off too. Thomas is absolutely loving the Christmas season. He points out Christmas trees everywhere we go and was so excited to buy our own. When we made the mistake of telling him we were going to go and buy one he declared that he wanted "biggest twee" and that we had to "go buy twee now. Pay for twee" whilst putting his shoes in my lap, despite the fact that I wasn't yet dressed. (Buying, and paying for, things is another of Thomas's current obsessions.) When we got it home, he couldn't wait to "derricate" it and had great fun hanging baubles and directing us where to place them.
Our trip to see Father Christmas was an absolute success. He sat happily on his knee chatting about the "big present" he wanted, and even posed for photographs!
He wanders around the house talking about "Christmas time coming. Father Christmas coming." and singing various Christmas songs to himself – chiefly Jingle Bells and Father Christmas, He Got Stuck, which he has learned ready for the nursery Christmas sing along next week. Bizarrely Old MacDonald also has a "Christmas Duck" on his farm at the moment. The Christmas Duck says "Jingle Quack"!
I am loving seeing the Christmas season through Thomas's eyes for the first time, and I'm so glad we started introducing the idea to his with enough time for him to really take it all in.
Lately, Thomas is showing himself to be a very opinionated little boy. I say showing because he's always seemed to have very firm ideas about what he likes and what he will and won't do, but with language skills that leap forwards daily, he's becoming much more adept at expressing exactly what it is that he wants at all times. I don't mean in a demanding or tantrum-y way, but simple choices about what he wants to eat for breakfast, whether he wants peas or beans with his meal in a restaurant (a choice which will invariably change between placing the order and the food arriving, but hey-ho) or what he wants to do today.
And what he wants to do most days is the same thing. Most days it's not a problem and we try to accommodate his request. But with the days getting increasingly short and the weather increasingly wet and cold, it's not always a simple request to grant. On the days that we are slow off the mark, or are trying to avoid the inevitable we enter a power struggle. Me, on the one hand, keeping Thomas occupied with cars, trains, drawing and play dough. Thomas throwing furtive glances to the window, occasionally wandering to the kitchen doors and muttering "raining now" in a sad little voice.
We trundle on, each trying to subtly control the direction of the day, until the power struggle reaches its peak, usually well before 10am has rolled around. The little one raises his battle cry:
"PARK" he states.
The rest of his words are unspoken by voice but implored by the eyes "Mummy, take me to the park."
Thomas's commitment to the park is strong. Rain, gales and freezing temperatures are no deterrent. A flood across the playground will not stop him. Even darkness is not a deal-breaker for him, although I do have to draw the line somewhere. But we are fortunate to live opposite a huge park and within a few minutes walk of a good playground. And so usually I give in, bundle us in to coats and secure teddy in his pushchair, complete with socks because I am told "Teddy socks on. Cold feet!" (The boy himself will not wear welly boots, however. Every effort has resulted in a miserable melt down. And he doesn't seem to care that his feet get wet!)
I learned quickly to always take a supply of paper towels to clean down wet and muddy swings and slides.
And we enjoy the fact that not everyone else shares Thomas's commitment, making the most of the empty space, free access to the best bits of equipment and a free reign to run around the mini-golf course, chasing the pigeons.
Thomas loves chasing pigeons!
If it starts to rain, we have no hope of dragging him away until he is ready to leave. To accompany the resistance to wellies, he also has an extreme resistance to putting his hood up, declared loudly by the statement "No hood!" And once we do drag him home, we struggle to get him out of his wet clothes as he sulks by the door, asking to go back out.
Poor teddy suffers stoically through it all. But unlike Mummy, once we're back in the warm and dry he gets to rest and recover by the radiator!
This is a very ordinary day in our lives. As much as I may sound like I'm grumbling, I actually enjoy these trips very much and I'm so happy that whatever the weather, Thomas would still rather be outside playing than sitting in front of the television. That fact makes my heart happy.