It's been a couple of months since I've managed to link up with the Me and Mine project. I'll have to be honest and say that lack of photos of the three of us is the whole reason. Part of my motivation to consistently join in is to ensure that we capture those precious shots with all of us in the frame. I've clearly been failing at that!
This month, however, I captured two lovely family pictures without even thinking about it, and both were at the top of tall buildings.
The first was taken on our final morning in Berlin when we visited to glass dome that sits atop the Reichstag Building. It was taken by a passing stranger, who seeing our camera offered his services before I'd had time to consider whether I wanted to ask anyone to get a picture of the three of us together. If only that could happen more often!
Despite the look on Thomas's face, he'd actually had a blast running up, and then down, the circular walkway inside the Dome! Unfortunately I'm squinting in the ridiculous sunlight, but it was a beautiful morning for taking in the city views.
Our second image was taken back in London, at the top of the Shard during a visit as part of my grandfather's 90th birthday celebrations a couple of weeks ago. An engineer by trade he was fascinated by the actual structure as well as the views. Almost 88 years his junior, Thomas was equally impressed with the views of the train tracks below and the space to run around… and around… and around. Those of us aged in between had a great time too. It turns out to be an attraction that most definitely can appeal to all ages.
I really love this photo for the fact that, for once, Thomas is actually looking directly at the camera, even if I am not! And my brother was on hand to take the shot, so no awkward requests of strangers for this one!
My final bonus shot was taken at the Deutsches Technikmuseum, in their Spectrum Science Centre, an interactive science museum full to the brim with hands on experiments. Thomas was quite transfixed by the thermal imaging camera. I like we're looking hot… sorry, couldn't resist!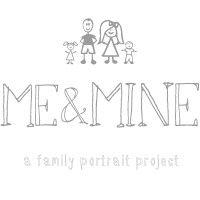 Thomas attends a private nursery and preschool which doesn't close over the summer holidays. In fact, it closes its doors only on Bank Holidays and for the week between Christmas and New Year. This really suits me, since I haven't yet figured out how any parents (working or non-working – although for different reasons, obviously) cope with school holidays and no child care. Ah well, I suspect I shall find out in three years time!
Despite the fact that we're not restricted by term dates at present, there is still a very definite demarcation of the "holidays". Gone are the paid activities like swimming lessons and music groups, and even the regular free sessions at the library and local drop in toddler groups take a break. These are the things around which I normally structure the days I spend at home with Thomas. Something from which to springboard everything else. And something which very definitely gives me cause to get out of the house and let Thomas burn up some of the omnipresent toddler energy.
So what I've already had a taste of, in relation to school holidays, is the sudden pressure to come up with fun stuff to do. Or even just "stuff to do" to fill the hours between waking and bedtime.
I know that kids, especially little ones, don't need an awful lot to entertain them. I know that Thomas is quite content to run around the garden, splash in the paddling pool, play endless games with his trains and spend long afternoons at the park. But staying at home, or venturing only as far as the park, ends up making me feel anxious and slightly morose.
It's not simply a feeling that "I should be doing more", although I'll own up to thinking that more often than I probably should. It's not that I feel Thomas learns any less from being at home rather than out and about, or that he has any more fun, because he can find joy in almost anything. It's more to do with boredom that I feel. And how that makes me feel like an uninspiring parent. When we get out and about the temptations of my own activities, or of social media, are very much lessened. Outside the walls of our own home and off our familiar turf we concentrate more on one another. We interact in new and varied ways. It's fun for both of us. And although I know that Thomas won't remember this summer directly, I most definitely will.
I guess these days out are almost more for me than for him!
That said, however, following on from full day at home and in the paddling pool yesterday, I asked Thomas this morning what he wanted to do today. His answer "Go to the seaside!" How could I refuse?
So we spent the day in Hastings. It's under an hour on a direct train from us. Of course, it wasn't perhaps quite the seaside Thomas has envisaged. There was no actual digging in the sand or paddling in the sea, since Hastings is a largely pebble beach. In order to take all that we would have needed to actually venture down to the sea, I needed the pushchair to help me carry it. But with the pushchair – our Maclaren whose wheels are well worn down – there was no way to negotiate the stones. One of the drawbacks of going solo on a day trip! Nonetheless, Thomas told me that he had a "great day in Hastings" and couldn't wait to tell Daddy all about it!
Photos are a little sparse, as I was more focused on enjoying the day together, but here we go:
Thomas had a good run around on the pebbles, repeatedly bringing me new ones to look at. "Look Mummy. Another stone!" Yes, sweetheart… they are everywhere! He also enjoyed Pelham playground, running round and round the pirate ships, crawling through tunnels and playing the drums (above).
Next up was the aquarium, where we saw sharks, rays and "Nemo and two Dory fish Mummy". Ahh, the Disney generation! (What can I say – he absolutely loves that film – it's pretty much the only full length film he'll sit through!) We also caught the ray feeding time, which was fun.
Next up was lunch. We shared a portion of fish and chips – proper seaside fish and chips, eaten out of the wrapper whilst looking out to sea.
Thomas wanted to take a picture of "you and me and the pushchair Mummy". I'm not sure why the pushchair (usually much hated) has suddenly been afforded friend status, but I thought we could leave it out! As we were taking the selfie above, a lady stopped and offered to take our picture, saying how happy we looked. Thomas, predictably, spoiled this second picture somewhat by sticking his finger up his nose! An accurate representation of him at two adn three quarters, however, since his hands are usually down his shirts or fingers up his nose!
We stopped off for a few minutes of trampoline fun. I know they are ridiculously expensive, but the look of joy on his face when I set him free and told him he could bounce was totally worth it!
Next was a ride to the top of the hill on the cable car/lift/funicular. Technically I don't think it qualifies as the latter, but whatever you call it, to Thomas it was a train going up a steep hill. In other words – heaven!
At the top we admired the view, and Thomas had a good run around. Of course, there was ice cream!
We finished up with a walk along the promenade – or should that be a shunt, since Thomas insisted we were trains for most of the way. Must have worn him out though, because he fell asleep in the pushchair – sign of a good day out, since it never happens otherwise! I took the opportunity to try and capture some shots of the pier, which is now undergoing renovation, but I had the wrong lens and the light was quite right, so I couldn't capture what I really wanted to.
It was a totally spontaneous and unplanned venture down to the coast, but a very successful one!
(I'm well behind on updating some of the other family adventures we've had recently, including more from Berlin, old fashioned funfair and fete fun and our trip up the Shard a couple of weeks ago. But I thought I'd get this one down while it's still fresh. If I wait to catch up, I never will!)
Ian and I have always loved to travel. We're not really "holiday" lovers in a traditional sense. There is limited appeal for either of us in lying on a beach getting hot, sandy and sunburned. Rather we love to see new places, experience different cultures and try alternative foods. That said, it should come as no surprise that our preferred travel trip has often been the city break. Short trips to new places, packing as much as possible in to a long weekend in a foreign land. In the years immediately before we got married we'd travelled to a diverse range of places from Marrakech to Kiruna, New York to Brussels. But our last "city break" was a trip to Paris to celebrate our first wedding anniversary when I was around 18 weeks pregnant with Thomas. That was more than three years ago.
We never consciously decided that we couldn't do city breaks with a child in tow. But I had some pretty strong reservations. I couldn't get my head around the accommodation. I didn't (and still don't, if I'm honest) understand how people could go away and stay in a single hotel room with their small children. What do you do once they reach their bedtime? Sit in silence in the dark with them? Granted we have an exceptionally poor sleeper, but I couldn't imagine it working. I also had big concerns about managing a pushchair on a lot of public transit systems, as many I've experienced are anything but pushchair friendly. And even airport transfers became a conundrum. It's a long time since we were "budget" travellers and whilst I have no objection to buses or trains, I'll be honest and say that the option to jump in a taxi is a nice one to have when you are hot, tired and face an hour's wait until your next train. With a child in tow – and no car seat – that instantly became a non-option.
Probably as a result of these niggling concerns, since Thomas was born we've stuck to pretty family-friendly holidays. Self-catering, farm stays and Center Parcs. Of course we've enjoyed those trips enormously, but I did still miss our old spontaneous weekends away.
This July we both had some time booked off. I'd booked the week a long time ago, as it coincided with Ian's birthday and is a week we've traditionally gone away for. This year we hadn't got around to booking anything and I'd begun to plan for having it as a week off at home, with Thomas still in nursery (judge me all you like!) to get some stuff done. Then our second IVF cycle failed. We decided that we needed a break from the norm. A chance to get away. And something to look forward to. So we began considering a city break.
In choosing a location, we looked at the long list of cities we have that we want to visit. We ruled several out easily as a bit too far away, to expensive or not very family friendly. The one that kept coming up over and over was Berlin.
Everyone kept telling me how family friendly it is, and how much there is for kids to do. It was a different way to consider a city, as our previous criteria in choosing a destination did not, for obvious reasons, include child-friendliness at all. I re-read, and re-read again, the excellent posts by Jennifer about her family's trip to that city last year. We knew that all of the trains and other transport, plus the Loxx Miniatur model railway would, between them, ensure that Thomas was in heaven. We discovered an easy train connection between the airport and the city, which erased my transport concerns. The we found an apart-hotel complex. A hotel that also offered two bedroom apartments, complete with kitchenette. Better still, the price for when we wanted to go was comparable to a "normal" hotel room. My concerns about accommodation were wiped out too.
So we booked it. Four nights in Berlin with a two year old.
It's taken me a while to get around to starting this write-up. That is in part because I've been having a bit of an internet and blogging break, but also because I've struggled a bit to know where to begin. We had such a fantastic time. Although our pace was necessarily different to how it might have been had we been without Thomas, we still packed an enormous amount in, including plenty of train and tram trips, some history in the form of the Berlin Wall memorial garden and Brandenburg Gate, trips up tall buildings (the Fernsehturm and the Reichstag Dome), plus lots of family activities such as the Loxx model railway, the Zoo and Aquarium, and the Lego Discovery Centre. We took hundreds of photos which I'm still trying to edit down now.
Thomas, true to form, loved the trains and trams. He loved repeating back the words he picked up from German announcements. And he enjoyed each of the places we visited, throwing himself in to looking at and exploring everything.
We all enjoyed the food, and Ian and I enjoyed the beer. No matter how many times I travel to mainland Europe, I still cannot really get over the fact that you can purchase half a litre of good quality beer for less than 1 euro! Well, we needed something to keep us going when Thomas was still refusing to sleep at midnight!
Of course it wasn't all absolute plain sailing, and I'd be lying if I said that it wasn't hard work. Thomas refused to sleep pretty much at all, and was definitely even worse than at home in that respect! I can't say the week was relaxing at all. But most importantly it was a lot of fun, and we definitely plan to do more city breaks again in future, so it definitely counts as a success!